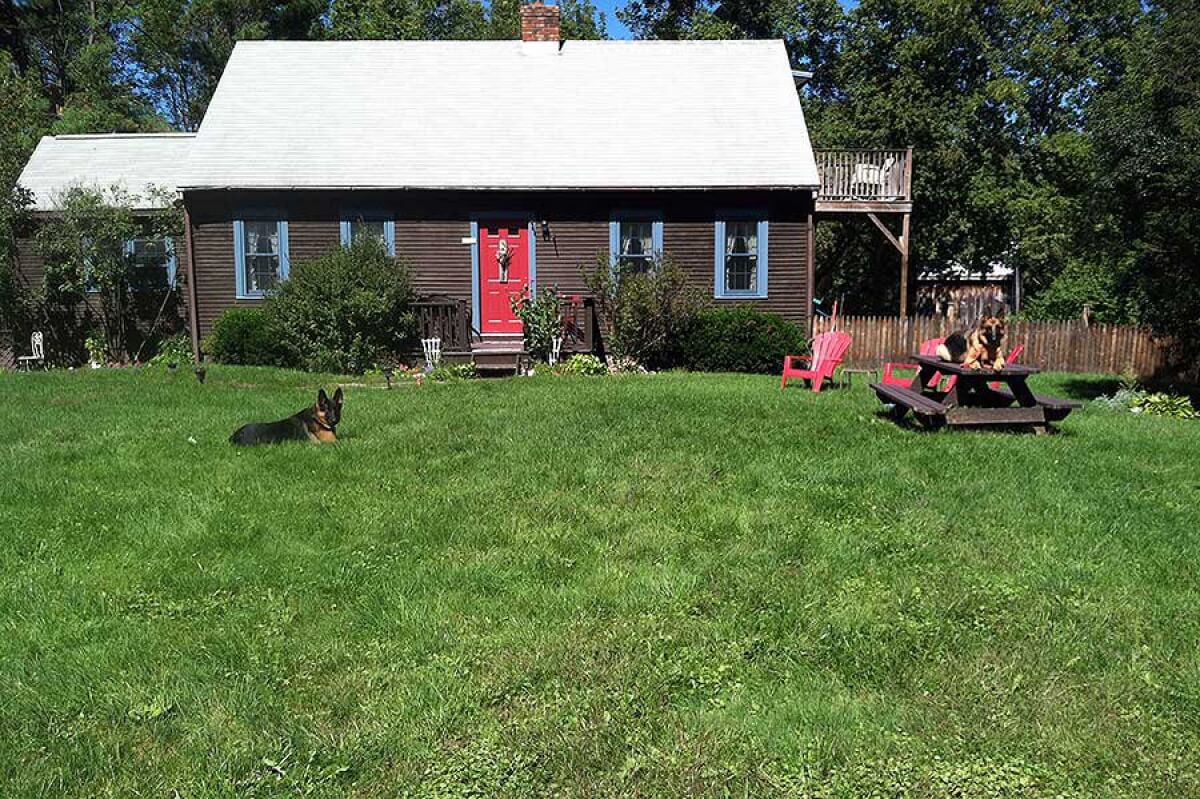 Kavik and Ruhe
---
Somehow, by some amazing stroke of luck, fate and, I'm truly believing, some sort of "dog guardian angel" intervention, I was able to find Shawn Hines of Best Buddy Dog Training on the internet. There were numerous other "Dog Trainers" listed, even some with "Best Buddy" in their logos; however, what I read of Shawn's Best Buddy philosophy prompted me to call him: Kindness, Trust and Mutual Respect, if only this belief ruled our world!
I was sold after having lengthily conversations with Shawn. Clearly he understood dogs and people intricately. Shawn maintains that firmness linked with kindness and consistency, result in confidence, trust, and clarity for both the canine and his/her owner. I live in Vermont, so it was huge for me to let my two German Shepherds go away to R.I. "Boot Camp" for a whole month! I knew, however, that my dogs and I truly needed professional guidance. My 3 year old male was showing signs of serious aggression and also beginning to demonstrate stubborn and assertive behaviors when given commands by me. He was now "training me". My 14 week old German Shepherd male pup was showing "dog aggression" (I couldn't walk him anywhere) and he was becoming somewhat unruly in other areas. Music to my ears concerning both dogs was Shawn's remark: "We can fix that."
Shawn worked with my dogs daily, cared for them in his own home and reported their progress to me. I wondered if I would be able to carry on what Shawn was teaching them. I am a 5'4", 67 year old woman of small stature and was beginning to wonder if I had made a mistake in getting two large breed, strong-willed dogs. Shawn kept assuring me that I would be able to carry on just fine. He added that he would "always be only a phone call away". I knew he meant "always".
My dogs returned to me happy, healthy, and content. Shawn worked patiently with me, facilitating as I took on a new role as my dogs' Leader and Protector. The commands had already been taught. They were basic, but essential. I only needed to be consistent with my expectations (expect & accept nothing less than what they now know how to do) and develop a rhythm that was easy and doable for all three of us.
Now my household is peaceful, manageable and above all happy. Tails are wagging. My dogs are polite and obedient at meal times (theirs and mine), on road trips, and during walks (I lead. They follow.) They sit and wait before getting in or out of my car and do the same before entering or leaving my house. My reformed pooches are also quite willing to "show off" their proper manners, while visitors marvel at their "calm, respectful demeanor".
Finding Shawn Hines was the best possible thing I could have done for my dogs well being and my own peace of mind.
Thank you, Shawn.
---
Rookie M.

- Charlotte, Vt.
---